Binh Lieu - Paradise in the border region in Quang Ninh
Quang Ninh is a province located in the Northeast region of Vietnam. For many years, Quang Ninh has always been considered one of the provinces with the most developed tourism industries in Vietnam. When talking about Quang Ninh, people often think of Halong. However, traveling to Quang Ninh but only visiting Ha Long Bay is a very unfortunate thing.
Apart from Ha Long, Quang Ninh has many other interesting and interesting destinations waiting for us to explore. One location recently very hot that is Binh Lieu. In this article, Vietnam Tourism will introduce to you the best travel experience in Binh Lieu.
Binh Lieu is a high mountainous district located in the northeast region of Quang Ninh province. The North of Binh Lieu borders Ninh Minh district, the West borders Dinh Lap - Lang Son district, the eastern borders to Hai Ha district, and the South to Tien Yen and Dam Ha districts. Binh Lieu district has an area of ​​about 471 km2 and a population of about 30,000 people. Recently, Binh Lieu is one of the most mentioned keywords when traveling. Remember the following experiences to prepare for traveling to Binh Lieu in the near future.
When is the best time to travel?
In general, you can travel to Binh Lieu at any time of the year. However, according to Binh Lieu travel experience shared by many people, you should come here in the summer. In addition, you can also go to Binh Lieu at the end of autumn and winter. Especially, in November, coming here, you can admire the pink reeds hill. That is attracted to a lot of tourists.
How to get Binh Lieu?
Most of the young people will choose to go to Binh Lieu by motorbike. However, the distance from Hanoi to Binh Lieu is about 300 km. Therefore, it is quite difficult to ride a motorbike from Hanoi to Binh Lieu. You can catch a bus to go to Ha Long city. Then rent a motorbike in Ha Long to move to Binh Lieu. Going so will be less tired and save more time.
Or you can go there by car. There are 2 car trips from Hanoi to Binh Lieu by Hung Long Garage, from Luong Yen station at 7 a.m and 11 a.m.
Place to visit
- Na Lang suspension bridge: Located at the National Highway 18L near Binh Lieu town, Na Lang suspension bridge connects Na Lang village with Binh Lieu town. The bridge has now been pedestrian-only.
- Khe Tien Waterfall: The waterfall is located in the middle of a dense primeval forest, lush green trees, at an altitude of 750m above sea level. Khe Tien Waterfall is divided into 3 different cascades, Khe Tien 1, Khe Tien 2, and Khe Tien 3. Here you will feel like you are lost in a fairy-tale realm. The scene here is wild and poetic.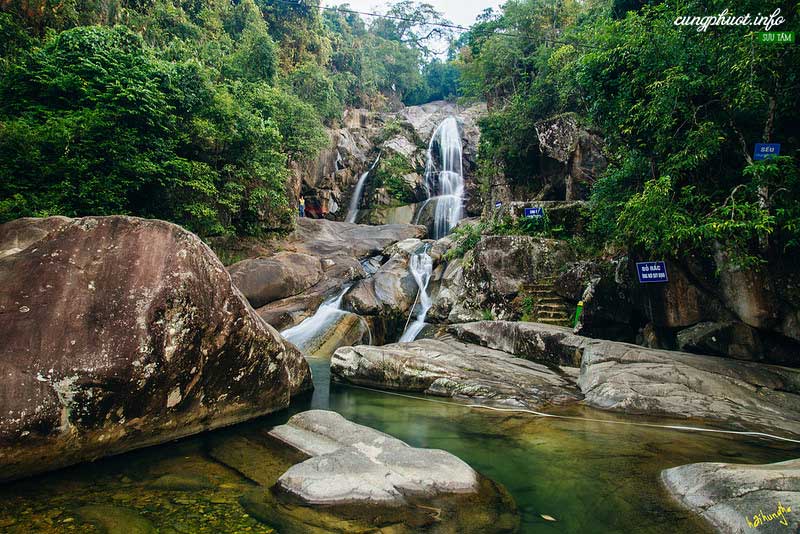 - Khe Van Waterfall: One of the most beautiful and famous waterfalls in Binh Lieu is Khe Van waterfall. The waterfall is located at an altitude of more than 1000m above sea level. Water flows from above about 100m down to create a majestic natural landscape but equally poetic. Coming here, you will be bathed waterfall, enjoy the fresh, cool, and pleasant atmosphere.
- Border landmarks: In Binh Lieu, there are many beautiful and famous landmarks. Every marker brings in important milestones of history. You should visit some of the landmarks in 1300, 1302, 1305, and 1327. Especially 1305 milestone and the 'dinosaur spine' are the two highest positions in the field.
- Cao Xiem mount: The roof of Quang Ninh is 1,429 meters above sea level.
- Mo Mo village: Traveling to Binh Lieu without exploring the Mo Mo village is a very unfortunate thing. This is a small village in Dong Van commune. The area of ​​Song Moi village is 375ha. Come here, you will be watching the poetic, beautiful lyrical terraced fields. Inside the village, there are many simple and simple houses imbued with traditional local architecture. Discovering daily life, learning about the unique customs and habits of the people of the Mo Mo village is also an interesting experience that you should not miss.
Binh Lieu is a beautiful, natural, wild, and majestic land. It is advisable for you to come to this land right away before it becomes a crowded tourist attraction. Let's go with Govietnamtourist.com to start your perfect journey to Binh Lieu now.
Do you need help?
+84.903.488.853
From Monday to Sunday - from 08:00 to 16:30